This is a brand new monthly feature that we're starting in May 2013! Occasionally, we're going to spotlight one of our authors and give you a chance to get to know them better. So, for May 2013, we're spotlighting erotic romance author Maya DeLeina! Congratulations Maya!


Maya DeLeina is an erotic vampire author with a sense of humor. Anyone who has seen her bloopers video will know what I mean. Here's the video in case you missed it!

Always on the lookout for new and interesting ways to get the word out about her books, and being one savvy business woman to boot, her latest collaboration is with Jill Cohn the musician who created the beautiful Blessing Moon, where Maya's vampire characters are center stage.

But that's not all you need to know about Maya. Maya is constantly creating, and not just her wonderful stories and characters. An artist down to her bones all you have to do is view her website which is full of beautiful photos of herself, her characters, as well as the actors and and actresses who play them, to know she is constantly creating and designing in one form or another. The darkness and what is in it are Maya's best friends. Her strongest themes are Gothic, and this is no surprise when you see the goth girl herself!

Visit Maya's Vampire page to learn more about her vampires and the women they love. You'll find lovely photographs, videos and other trivia related to Maya's vampire worlds. Step into a visual bounty, visit today!

Want a little something to spice up your love life? Be sure and stop by the Four Seduced Muses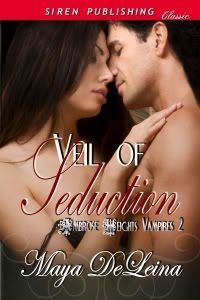 Blog for Maya's Forbidden Fruit Fridays! You're sure to find something to heat up your bedroom! We were sure fanning ourselves after reading the latest installment. Whew! Super hot!

Here's how Maya describes her Forbidden Fruit Fridays column:

Dedicated to exploring the recesses of the sexual realm that may be considered decadent indulgences, immoral pleasures, and desires that are tempting…but sinfully dangerous, Forbidden Fruit Fridays features thoughts, articles, educational guides, visual stimulation, experiences, trends and conversations with friends that explores sex in every flavor richer than vanilla.
Yeah, we think that about covers it.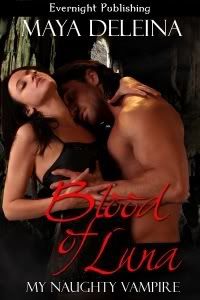 But maybe you're looking for a little more? Like the idea of finding new news from Maya once a week? Then don't miss her weekly newspaper Week in Review with Maya DeLeina! This paper is super fun, and there's lots of vampire author news there for the discerning reader. Not to mention cool music videos, and other fun stuff! As Maya likes to say "Feed the Craving and Start your weekend off with a bang!"
Thanks for being so willing to share your vampires with the rest of the world Maya, and please keep the stories coming!