Bio:
Regina Paul is the author of fourteen books ranging from non-fiction to sweet to sensual to erotic romance. She likes variety in her stories and has a tendency to mix genres in her storytelling.
She has a monthly newsletter that comes out each month between the 1st and the 5th of the month depending on her work schedule. She invites readers to subscribe and read her fantasy romance The Keepers of Eternity. A new chapter will be posted to the file folder each month. Sign up for Regina's Universe today!
Regina's day job is managing ninety plus anesthesiologists in a busy OR. She loves her job and has received much fodder for future stories. Look for a book sometime in the future featuring anesthesiologists!
Regina lives in Seattle, Washington with her husband of twenty-two years. When she is not writing, she enjoys spending time with her husband, reading, creating Native American Beadwork, and 3D artwork, as well as, watching movies. She loves to hear from readers and invites you to e-mail her anytime at tiwatz@yahoo.com. She also invites you to visit her website and blog at http://www.reginapaul.com to stay abreast of current news, her free reads and where to find them, as well as, when her latest books are released.
Upcoming Events

August 3, 2012: Guest Blog on Reading Between the Lines Blog

Books:
Available Now From Leap of Faith Publishing!
Blurb:
On the run from an abusive ex-husband, Lin Chen drives through North Dakota and encounters a winter blizzard which forces her to stop on the Standing Rock Indian Reservation. There she meets Kyle Little Eagle, a medicine man. While it isn't long before they are close, her ex is not far behind. Can Lin overcome her fear of men and let Kyle help her? Can love and mutual connection to the spirit world prevent her worst fears from being realized?
Blurb:
Melanie has always known she was attracted to women and not men. Kicked out of the only home she's ever known when she was eighteen, Melanie has been on her own for years. Verbally abused her whole life by her mother because she is tall, big boned, tan, and god forbid, a brunette, Melanie used her mother's disappointment in her sexual orientation as an excuse to chart her own course. But when a bus ticket along with a plea to come home for Thanksgiving arrives out of the blue, Melanie is less than enthused, and suspicious. However, it is not her mother who arrives to pick her up at the bus station, but a familiar and beautiful blond.
Melanie and Loraleigh fall hard for each other, but Melanie's mother has other more sinister plans. Will they be able to stop Melanie's mother and have their fondest wishes or will their dreams of the future go up in smoke?
Excerpt:
Chapter One
I hate going to mama's for Thanksgiving. Why did she even bother sending me the ticket? She knows I'm not going to change for her. Why am I even on this bus? Not for the first time Melanie stared out the window at the passing scenery. Because you know it would hurt her feelings if you didn't come, and she paid for the ticket. Crap.

As the bus drew ever closer to her home town of Murphysboro, Illionois, she couldn't help but feel her stomach tighten, and bile
start to rise up her throat nearly choking her. She couldn't help it that she was attracted to women instead of men. Her mama just didn't understand, and had even banished her from coming home for two long years until a card had arrived the week before that said, "I'm sorry," with a bus ticket attached.
For the last two years she had been getting by working two crap jobs while she tried to get her degree. It hadn't been easy, and she'd had to count on the good graces of her friends on more than one occasion when a landlord wouldn't wait an extra week for the rent, or she ran out of groceries two or three days earlier than she'd anticipated.
I just don't get it. Why now? She refused my phone calls for two years, even going so far as to change her number and make it unlisted. And how the hell did she find me?

The bus hit a pothole, and just like that it jolted her back to the present. The bus pulled to a stop at the tiny Greyhound bus
station and Melanie glanced out the window to see if her mother was there. When she didn't see her, she followed the other two people on the bus to go get her suitcase with wheels. That and the duffle bag she had on her shoulder were all that she'd brought with her.
The cold icy wind cut through the thin parka Melanie had on like a sharp knife. I forgot how cold Illinois winters can be, I should have brought my heavier coat. Pushing her gloveless hands into her pockets she stared off into space while she waited for the driver to open the compartment under the bus where the luggage was kept.
Please God, don't let my bag have gotten lost between Seattle and here. Melanie let out a sigh of relief when the small black suitcase with wheels appeared, and nearly fell out when the door was pushed up.

"Excuse me, are you Melanie?"

Melanie turned quickly at the voice, "Yes."

When she was finally able to get a good look at the owner, she almost groaned. The woman personified everything Melanie was not, blond, perky, slender, short and she had a gorgeous smile that stretched over perfect white teeth. She was beautiful, but Melanie knew with her luck, the woman would not only be straight, but wouldn't care for her tall, brown curves, and unruly curls. Melanie knew she would have fit right in during the 40's, well, except for her tan, but these days no one was interested in curvy brunettes. It didn't matter how hard she tried to lose weight, she just couldn't without starving herself.

"Hi, I'm Loraleigh." The woman gave a little wave. "Your mom sent me to pick you up."

"Figures." Melanie muttered beneath her breath.

"Actually, I'm renting your room. Hope you don't mind sharing while you're here."

Melanie's stomach dropped to her ankles. She's already replaced me. "I can just sleep on the couch. No big." She finally said, not looking at Loraleigh.

"Your mama really is sorry, you know?"

"Yeah, right."

Melanie felt a hand grab her elbow, hard. She looked down into ice blue eyes. Loraleigh was at least four inches shorter than she was. Yet another of my failings in mama's eyes.

"No really. She is."

"Whatever." She looked away, and then shook her elbow until Loraleigh let go, moving to put some space between them.

"You're still pissed, huh?"

"Something like that." God, why does she have to stand there and remind me of everything I'm not. She's exactly what mama wanted, so why am I here?

"I'm a PI. That's how she found you, actually. She asked me for help, told me that she wanted you to come home for the holidays. So, I helped." She shrugged.

Melanie turned incredulous eyes on the blond pixie. "And you're telling me this why?" She finally asked.

"Just thought you'd want to know."

Instead of asking Loraleigh why in the world would she want or need to know, she just shook her head.
When the driver looked at her questioningly, and then at her bag, Melanie realized they'd been standing there jawing for who knew how long.

"Thanks." She said shortly, grabbing the handle of the suitcase and lengthening it so she could pull it along behind her.

Melanie followed the shorter woman whose white blond hair was actually longer than she'd originally thought reaching to nearly her ass. And oh, did she ever have an ass. As the woman's hips rocked back and forth, Melanie watched Loraleigh's rump cheeks shift in her jeans with the movement. What I wouldn't give to get my hands on that. Yum.

When Loraleigh stopped beside a shiny black Ford Explorer, Melanie just shook her head. Figures. PI, big black Ford Explorer. The girl has a thing for big things, a big job, and a big truck. Wonder if she likes her women big too. A wry smile popped out at the thought.

"Hop in, the door is unlocked." Loraleigh called.

"Thanks." Melanie opened the door and threw her suitcase and duffle bag in the back.

"Sure, no problem." Melanie climbed in and buckled her seatbelt, her thoughts in chaos.

"Um, I hope you don't mind but I need to make a stop before we go to your mom's."

"That's fine." It'll give me some more time to avoid her. I'm not really even sure if I want to see her. I really shouldn't have come here. I should have just gone to the Greyhound station and cashed the ticket in. Hell, I would've had a week's worth of groceries then, instead of an empty kitchen when I get back.

"Oh, good. I was worried you'd want to go straight home."

"No."

"Well, that works out for me then."

Melanie had been afraid the woman would chatter the whole way to wherever they were going, but instead she was quiet leaving Melanie to her thoughts.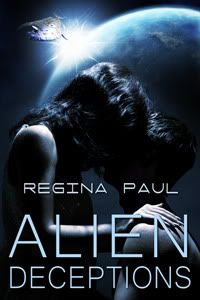 Blurb:
Terror stalks Angel's nights as she waits to be abducted again. During the day she researches, and interviews other alien abductees. Into her waking nightmare steps a gorgeous stranger. Does he have the answers she's looking for? The answer is beyond her wildest imaginings, and could be either her salvation and a chance at true love, or her death.
Excerpt:
Eyes bored into her back. She felt them burning twin holes there; it didn't take a rocket scientist to know the man still stood behind her. Is he Tom, or is he one of the numerous government types with their trendy, yet nondescript clothes who follow me no matter how hard I try to conceal my identity? She found them worse than the visitors and just as tenacious.

Ever since her parents had been abducted and not returned, the government had taken a keen interest in her life. She did her research under an alias, but she felt fairly certain the government types had discovered that long ago. Still as long as they didn't interfere, she was willing to let bygones be bygones. Putting the bowl down Angel stole another look and saw the man had left. That could only mean one thing, he wasn't her contact, but one of the government's many peons.

Damn! She didn't need this right now when she tried to do research. Where the hell is Tom?

I have to get out of here! The market might be public, but she didn't want to put her contact under the gun either. She turned and promptly ran into the man observing her.

"Excuse me." She mumbled, trying to get around him. God he's big!

"Are you Angel Whitedove?"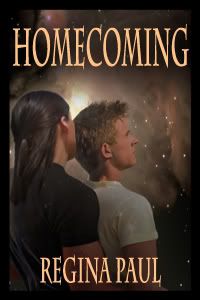 Blurb:
Crew left his older lover Eagle to go into space, realizing his lifelong dream. He was not ready to settle down when Eagle wanted to make their bond formal. Eagle, a professor, has no use for space faring. Crew knows Eagle was deeply hurt and angered by whet he believed was Crew's desertion.
Now Crew is back. He's not sure what kind of homecoming he will find. Will the man who still holds the keys to his heart and desire make him welcome or only tease and then reject him in revenge?
Excerpt:
His mind made up, Crew walked over to Eagle, slid the jacket down his arms and threw it aside. Then holding his lover's black gaze with his own, he unbuckled the belt at Eagle's waist. He almost smiled when he saw Eagle's eyes narrow, but kept it inside instead. Grabbing the end of the belt that held the buckle he pulled until it slid out of the loops of Eagle's dress pants. Then still holding Eagle's eyes, he dropped to his knees and rubbed his cheek against Eagle's cloth covered erection. His lover's scent wafted from the cloth, and Crew's own cock which had never really gone down from before, hardened even further. He pushed his face into Eagle and continued to inhale the beloved scent. Eagle's hands tangled in Crew's sunny locks holding Crew in place as a groan wafted from above him. Long minutes later Crew unbuttoned and unzipped the man's pants, sliding both the pants and Eagle's boxers down his legs to his knees.
Regina will be teaching her class How to Write Realistic Native Americans Past and Present twice in 2012.
How to Write Realistic Native Americans Past and Present

Do you want to write about Native American characters? Stumped by how to make your Native
American characters as realistic as possible? Then you've come to the right place! Bestselling
Native American romance author Regina Paul will teach you how to make your Native American
characters stand out.

Here's a few things you'll learn in this month long class:
*What stereotypes are and how to avoid using them in your writing so you do not perpetuate 
them.



*How to find sources and do your research the right way.
*Discover why the internet may not be the best place to do research, and how to get around that 
problem.



*The differences between Native Americans in the past and Native Americans now and why it is 
important to understand this difference and show it in your writing.



*A general overview of Native American spiritual beliefs. (With the understanding that each 
tribe has their own set of beliefs.) This is just the basics, the things that most tribes have in 
common.



*Why experiencing Native American cultures first hand is so important, and will even trump 
doing a lot of research.



*And much more!



6/25/2012-7/20/2012 at RWA Hearts Through History Chapter
10/1/2012-10/28/2012 at Savvy Authors
Copyright (c) 2011 by Regina Paul. All Rights Reserved.