Bio:

Rhonda Jackson Joseph has always been an avid, equal opportunity reader. One of her early forays into writing was during junior high school when she produced numerous romance short stories in which she and her best girlfriends were the heroines. The stories were circulated and garnered quite a following. Thus, she found that romance writing came rather natural to her.
Her focus shifted toward horror writing when the elevated hormone levels in her body during pregnancy brought on terrifying nightmares during the scant hours she could find sleep. The dreams demanded to be placed on paper, and she hoped they would then be exorcised. To no avail, as they never completely disappeared. In fact, they multiplied.
In 2007, Rhonda began working with Whispers Publishing as an editor, and currently serves as the Editor-in-Chief. At present, she is also working on an MFA in Writing Popular Fiction at Seton Hill University. She is also on the steering committee of the National Black Book Festival, an event that has drawn dozens of authors and hundreds of readers to Houston for the past five years.
Rhonda has placed several short works in both the horror and romance genres. Her first novel, a contemporary romance entitled Call It What You Want, was released by Tea and a Tome Publishing in March 2007.
She currently lives in Texas with her husband and four children, where she continues to edit, write and read voraciously.
Rhonda is available for speaking engagements, workshops, interviews, and book signings. Please contact her at:
Rhonda@rhondajacksonjoseph.com
On Twitter: @rjacksonjoseph
On Facebook: Rhonda Jackson Joseph, Writer/Editor
P.O. Box 14804
Houston, Texas 77221-4804
(281) 704-4295
Upcoming Events

January 26, 2012-HeartFelt Promos Chat in the Latte Lounge
Books: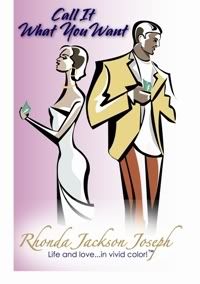 Blurb:

Cishawn and Tonzell both know what they want from life. Cishawn wants to be able to maintain her independence while pursuing the career of her heart. Tonzell wants to be able to grow his fledgling business without the distraction of a relationship. When the time is right, each wishes to find
the perfect mate: for Cishawn, that would be a man who appreciates and supports her independence. Tonzell wants an old fashioned woman like his Granny to build his life with. The problem is, Cishawn's quest for independence serves as a blockade between her and potential mates. She cannot be what Tonzell needs her to be, and that is the needy, damsel in distress who is looking to be rescued. Can Tonzell accept not being the noble rescuer?
Blurb:

Tisha Randall wants a boyfriend. When a likely specimen walks into her pet store to purchase "a dog or something", Tisha nearly turns him away with her disdain for would be animal owners who neglected their charges. Upon further review, Tisha realizes the man had a different type of void in his
life, very possibly the same one that afflicts her.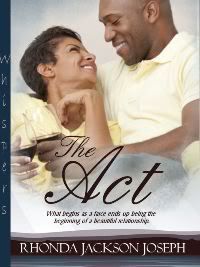 Blurb:
Melanie Durst just about has her nest empty. However, the widowed mother of three grown up daughters soon finds herself the object of the girls' matchmaking schemes. In an effort to waylay these actions, Melanie joins forces with a handsome regular customer in her store, Tyson Brown. What begins as a farce to get her daughters off her back ends up being the beginning of a beautiful relationship.
Join Rhonda's Newsletter!
Visit her website!