Current Events of Interest
Interview with Clayne MacDagon from Curse of a Dragon's Claim on Regina Paul's Blog
Interview with Axel Venrick from Forsaken Norse Wind HeartFelt Promos In the Hot Seat
New Book Review Romance Book Scene
August 23, 2012-Guest Blog on Reading Between the Wines Blog
August 25, 2012-HeartFelt Promos Chat in the Coffee Time Romance & More Latte Lounge

Bio:
Reading and writing is a wonderful diversion from an often-difficult world. I love to create my own stories and have control over how things will end. It's exciting to create brand new worlds and characters. My imagination can
come alive.
In sci-fi and paranormal stories, I can invent wonderful places and people. Anything is possible in these genres and that's limitless. I'm able to create an escape into a special world filled with unique and fantastic things and there is always a happy ending.
A high school teacher inspired me to write. However, instead of initially pursuing my writing career I became a lawyer. I work in divorce court, so erotic romance is a great escape. There can be true love and happy-endings, at least on my pages.
My two children and I have two good-humored dogs that share our home and ease our stress. I have traveled and lived all over the world and these experiences have given me great creative ideas. I look forward to creating many more adventures in romance.
Visit Ciara's New Website!
Visit Ciara's Zazzle Store! You'll find products with her book covers, as well as, some very cool art!

Freebies:
Get your free desktop wallpapers and bookmarks from Ciara Lake today!
Books:
Ancelin Trever is running from a nightmare. Her family brutally murdered, she runs to the new colony world, Verrian. Wild and untamed, this alien world is full of dangers she is ill prepared for. Haunted by her past, she's forced to trust a man she must struggle to hide her growing attraction from.
Krevan Vallex is an embittered Triaxen recently released from Hellgate Prison Planet. When he negotiates a land deal, he has no idea that he's getting far more than he could ever imagine. Surrounded by the harsh brutality of a world without laws, Krevan is torn by his desire to remain alone and the burning passion he feels for Ancelin. When her past is uncovered and she's thrown into an old danger, Krevan must face his own emotional upheaval and risk it all to protect the woman he loves.
Excerpt:
"Mr. Vallex, how much farther is the property?"

"We have about three more hours of driving left. Silos is about four hours
from my property. The information I provided indicated the property is
remote and rural. The property is out in the middle of nowhere. There's the
town of Coti. It's a smaller settlement closer to the property. There isn't
much in that town. Let me know when you want to go back to Earth." Krevan
glanced over at Ancelin as if to gauge her reaction. They resumed their
semi-tolerable silence to ride for another hour until the darkening sky lit
up with an outstanding lightning demonstration. Booms of thunder shook the
vehicle as it sped across the gravel and dirt road.

"Oh, wow, was that thunder?" Ancelin's voice sounded strained. She gazed up
and out the front window.

"Yes, it's only getting started. The storm has arrived a lot sooner than it
was expected. Welcome to the storms on Verrian. They're powerful and not for
the faint of heart. The weather here is an authentic Verrian experience.
Hopefully, we'll get home before the roads and fields get too muddy and
slick." Krevan looked over at Ancelin, his eyes mirrored back at her,
reflecting in the low light oddly.

Ancelin gasped. "You're not an Earth human or any humanoid I'm familiar
with. What are you? Your eyes reflect like…like some of the carnivorous
predators on Earth. What humanoid species are you?" Ancelin tried to steady
her trembling hands.

Krevan smiled, and the lightning flashed, illuminating his striking face.
"I'm a Triaxen humanoid. I'm sorry my eyes alarm you. I promise not to
bite." Krevan watched her with his eerie, inhuman eyes. His full smile
framed his beautiful white teeth. They looked surprisingly sharp, especially
his canines. His smile wasn't sincere.

"A Triaxen, which would explain your height and size. I'm sorry for reacting
so rudely. I've never met a Triaxen humanoid before. I've never seen a
humanoid's eyes reflect like yours. It surprised me." Ancelin attempted to
apologize for her overreaction, clasping her hands together to continue to
try to keep them from shaking.

"You mean like an animal, a carnivorous predator? Isn't that what you
compared me to, Ms. Trever?" Glaring at her, his annoyance was obvious. "My
ancestors were deadly predators. I inherited many useful and lethal
abilities. However, I won't harm you unless you harm me. I can be civilized
even though I lived five years of my life on the uncivilized Hellgate Prison
Planet. I thought you should know that before you hear it from someone else.
Most people on Verrian are wary of me. Not many people survive Hellgate
Prison. My being a venomous male Triaxen also makes people uneasy." They
resumed their uncomfortable silence as the thunder boomed, and then the rain
cut loose from the sky and poured down in torrents.

"Can you see where you're going?"

Krevan didn't respond to her question. Ancelin hugged the side of her door.
Any closer to the door or farther from him and she would be sitting outside
on the vehicle's running board.

With a sudden jolt, their vehicle left the dirt road as Krevan cut off
across the pasture. The jolt bumped Ancelin away from the door and closer to
Krevan. Their legs touched. Ancelin anxiously yanked her leg back. "Is this
the way to the house?" Her question broke their heavy silence.

"Yes, both of the houses are in this direction. There's no road to the
property. We're almost there. Your house is within sight of mine. Since it's
raining so hard, I'm taking us into my garage. We can go inside and wait the
rain out before I take you to your house. I have no desire to get drenched
tonight. Your house doesn't have a garage or port. I hope waiting at my
house is all right with you. The rain could last awhile."

Krevan looked over at her quiet, stiff form as he explained his plan.
Ancelin made no reply. The rain came down so hard it was difficult to see
out the windows.

Krevan drove the vehicle confidently, as if he could see through the
onslaught of rain and darkness. "You scared of me, little girl? Krevan's
voice was hushed. "I told you to go back to Earth. You're on this untamed
world with a Hellgate ex-con as your only neighbor. Alone, with a stranger,
a Triaxen male nearly three times your size. That's gotta suck for you."
Redirecting his attention out the front window, he seemed not to expect any
response.

"Mr. Vallex, I appreciate my precarious situation. I'm grateful for your
considerate warnings." Ancelin had her own degree of sarcasm. "I'm here now.
I would be grateful if you would…I don't know…not be so negative and give up
trying to scare me back to Earth. If you're going to be big and bad, let me
know now and get the good stuff out of the way." Despite her bold speech,
Ancelin continued to hug the side of the door.

"All right, Ms. Trever. I'm not sure what your definition of 'the good
stuff' is," Krevan responded as their vehicle approached a large, modern
structure. It was a remarkable house built out in the middle of an isolated
landscape. It was reminiscent of the luxurious homes that lined the streets
of many of Earth's affluent neighborhoods.

"Remember, Ancelin." Krevan stressed her first name. He seemed to want to
make sure her attention focused on him as he stopped the vehicle in front of
four garage doorways. "I didn't knowingly sign up for a female neighbor.
Your arrival has caught me off guard. In the past, my being caught off guard
has proven to be fatal to others. I'm willing to make the best of this
uncomfortable situation.

"






Blurb:
Leea, a young woman from Oklahoma engages in a heated *sexting* relationship with a man from Alaska. Lucan, on a hunt for his mate, advertised for a mail order bride.
Leea aware of the risks, is still drawn to the *Ketchikan man* and his nightly naughty texts. Leea believes she's behaved shockingly via text, now she's embarrassed by the explicitness she shared with this virtual stranger. When she arrives in Alaska, she encounters an absolutely gorgeous male. Overwhelmed, she's suddenly inhibited by timidity. However, Lucan is patient and determined to reveal Leea's inner siren. His unique instincts tell him that she's his.
Lucan is a local artist, a talented man. He's part Native American with an extra component in his genes. He's a bear shifter. Unknown to Leea, his honored ancestor passed the special gift to him.
Will Leea and Lucan's passion survive the wilds of Alaska?
Excerpt: Coming Soon!
Communication specialist Saleeya Stayvel was hired to ensure proper communication during the critical meetings on Xihirah meant to stop a war with The Realmist terrorist faction. With the universe hovering on war and at the mercy of those who are targeting non-earthen humanoids, more than just her linguistic skills will be put to the test.
The Xihirian Prince, Admoncor Kael Braeden, is the head of Xihirian Military Elite Force. Fierce, dangerous, and intuitive, he demands the respect of those around him. Unmated, his dark moods affect those around him until he finds himself in the presence of his mate. But in the midst of danger, deceit, and treachery, how can Kael and Saleeya's romance blossom?
After about a ten-minute walk through the endless corridors of the ship and two glass tube rides, they arrived at the ship's exit. Out of the ship's windows next to the exit, Saleeya could see four impressive-looking men waiting at the bottom of the exit ramp. None of the four was shorter than six and a half feet. They had dark, swarthy good looks, and they oozed sexual appeal. Heavily corded muscles rippled beneath their tight uniforms.
Legs braced apart, arms crossed over their chests, they looked as though they weren't going to be moved. Off to the left of the four uniformed males, another male leaned against the ramp's railing. "Oh my Deity, that's the biggest, most impressive male I've ever seen," Saleeya exclaimed in amazement.
"Let me see." Mia leaned past Saleeya to get closer to the window. "That, my dear, is the Admoncor. I recognize him from his pictures. He's hard to forget." Saleeya gazed out the window, astonished by what she saw. The extraordinary male made her pulse quicken from the mere sight of him. Tall with broad shoulders, his massive arms and legs looked exceptionally powerful. All muscle, no softness filled out his uniform. He looked good in his black military uniform. The jumper-style uniform fit snugly all over; he wore it like a second skin. He wore his skin wonderfully. Saleeya nearly choked when it seemed his eyes focused directly back at her through the window. Saleeya sucked in a quick breath. Her heart was beating in her ears, and it fluttered when his stare swept up to where she stood, sheltered by the one-way glass of the window.
"Can they see us?" Saleeya licked her suddenly dry lips, her body leaning toward the window and the man on the other side of it.
"No, the windows are one-way. What's wrong, Saleeya?" Mia gently placed her hand on Saleeya's upper back in a soothing motion. "You look really flushed."
"I feel flushed. Did you get a good look at the Admoncor?"
"I know you told me Xihirian males were big and good-looking. I just never expected that a man could be as big as Admoncor Braeden."
His bright amber eyes seemed to look right back at Saleeya as if he could see her through the one-way window. His intense eyes were set in a masculine, tanned face. Black, silky hair hung slightly down on his forehead. Saleeya watched him push it back out of his face. The movement indicated restlessness. The hairstyle he wore wasn't the traditional short haircut of most military officers. It hung somewhat longer. His hard,
striking face was impassive. Saleeya could see how people could easily fear this man. Now she clearly understood the Minister's apprehension. The Admoncor personified a beautiful, deadly predator. Saleeya moaned, turned to face Mia. "Well, so much for easing the Minister into this. The Xihirian Sovereign has sent his second, his most intimidating son to greet Vitalion. After seeing him for myself, I can certainly appreciate Vitalion's anxiety."
Saleeya brushed her hair back out of her face, mimicking the Admoncor's motions. "Sending him would be the most appropriate thing for their King to do."
"He's the head of their Elite Military Force," Mia replied.
"He's something else." Saleeya smiled widely. "Look at the size of his legs and arms. One of his thighs is bigger around than my waist. How tall do you think he is? He's much taller than anyone I've ever seen."
"He's impressive." Mia nodded. "Just don't dwell on it and it'll be just fine."
"I feel like he keeps looking right at me through this one-way window. It's the oddest thing."
"Trust me, it's your imagination. I'm sure they can't see us or hear us in here. They're talented but not that talented. Saleeya, you still look flushed. Are you feeling okay?" Mia asked in a concerned voice.
"I'm good. I only wish it was cooler in here." Saleeya fanned herself nervously.
"It's cool in here, Saleeya. In fact, it's cold to me."
"I've arrived," Vitalion loudly announced from behind them. "Now that I'm here, we can leave and meet the Xihirians." Vitalion's expression was arrogant. He glided over to the exit door. "Crewmember, prepare to open the ship's access. Are both of you women ready?"
"Yes, Minister Vitalion," Saleeya answered for the both of them.
Vitalion glanced out the access window before the crewmember was able to comply with his order. "Oh dear, is that Admoncor Braeden waiting for us?" Vitalion's face drained of all color.
"Yes," both women answered in unison.
"Well, he looks as bestial and menacing as ever," Vitalion squeaked.
The crewmember pressed in a numeric code and the ship's large access door opened. It opened so silently that Saleeya didn't even realize it had opened until the warmer air touched her already hot face. A huge ramp was attached to the ship at the entrance and led down to the Space Station's platform. The ramp gleamed silver like the ship, and it looked daunting. There were slight railings on both sides of the ramp. It stretched high above the Space Station platform by at least sixty feet. It slanted down at a slight angle to where they would step off onto the permanent platform. The silver bridge covered the gap between the ship and the platform, and there was a drop of a great and undetermined amount below. Saleeya did not know what was more frightening, walking across the bridge-ramp or the five men waiting at the bottom. The five huge Xihirian males casually moved closer to the edge of the ramp to wait. "Let's disembark," Vitalion ordered. Surprisingly, he started bravely toward the Xihirians at a swift pace. Saleeya forced her feet to move. She followed close behind Vitalion's assistant. When Vitalion reached the midsection of the ramp, he suddenly stopped. Saleeya nearly panicked at the thought of stopping in the middle of the terrifyingly high ramp.

Coming Soon From Best-Selling Romance Author Ciara Lake!
Announcing Forsaken Series. Read about immortal realms. A history parallel to mortals. The war between the dragons and the vampires which wages on for centuries. The adventures of trolls, mer, gods, fey and more. Have a other worldly experience like none other!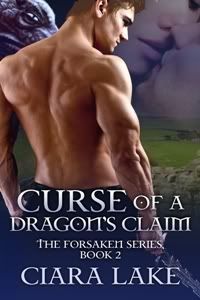 The realm of Dragons is a world of magic, danger and mystery. Embroiled in a brutal war with the Vampires, they've often travelled to our realm. Caught between two powerful immortal beings, humans and those once Forsaken by the immortal realm, have paid the ultimate in price.
On the cusp of an ancient evils rising, a beautiful Forsaken, Arianna Mergliano will discover she's something more than she ever imagined.
Clayne MacDagon, a powerful dragon warrior embittered by his twin's death is sent on a mission to find the dracvipen. Seeing Arianna, he knows she is his fated mate. Embracing this truth, he takes her as his own. Together, they must face the shadows and evil that have long plagued the immortal realms and find a way to survive the coming war with their love as their
only weapon.
Excerpt:
Chapter 1

The polished marble floors shimmered like diamonds, their radiance nearly blinding. Majestic chandeliers hung from high ceilings, bejeweled with precious emeralds crafted by a master artisan troll. Each stone held within it the essence of dragon, making them priceless and giving them mystical qualities.

King Aerouant strode down the corridor, his gaze on the fine mosaic tiles telling his kind's history. This was the stronghold of the realm of dragons, Ejdeha Dragoni.

Tonight his dragons celebrated. After years of conflict and war between themselves and the fierce vampires, the changes in Earth's seasons were great reasons to make merry. With wine and food, they rejoiced in this season of renewal, human's spring.

"King Arach Aerouant, please honor us with a toast of beginnings," a boisterous warrior shouted, standing with his cup in hand.

"Yes, I shall offer a proper toast." A joyous smile was plastered on Arach's face as he raised his cup high. His gaze swept over the fifty gathered warriors. "My friends, loyal subjects, let's offer thanks to Mother Earth for her bounty. We dragons owe Mother Earth our devotion as we are her servants."

"Well, well, well, Arach," a sensual feminine voice chimed in from behind his chair. "What about thanking me, your beloved goddess? I too have given much to your kind." A silver-haired beauty sashayed her lovely figure to stand next to the king, one finger pointed to the valley between her abundant breasts. "Well, mighty king of the dragons, have you forgotten me so soon?" Her musical laughter filled the air.

The men fidgeted in their seats. Shivers of desire raced up Arach's spine. His muscles tensed as he studied the beautiful goddess. He fought his body's betrayal, all too aware his fellow comrades felt the same sexual pull. Amuliana was nothing if not seductive.

"When last have you had a celebration in my honor? I surely wasn't invited." The goddess pouted, one hand on her curvaceous hip.

The king bowed low. "Goddess, how could we ever forget your loveliness? We're forever grateful for your many blessings."
Amuliana appraised the room, the obviousness of it enough for Arach to grind his teeth. "Is the handsome boy hiding from me?" She sipped her wine, her lashes lowered to half-mast.

"He was pardoned from attending this celebration. He's sparring with his men. He's always training to ensure his legion is the best. Shall we fetch him?" King Arach waved a young lad forward.

Amuliana placed her hand on Arach's arm. "He always was one for all work and no play. One must strive to alter that." She shook her head, her mass of curls tumbling over her shoulders. "Clayne's disposition will have to change. He'll no longer have the ability to immerse himself in play fighting." Amuliana tasted the pheasant in front of her. "Mmm. You always have such succulent food, Arach. I do love good food too. Despite the fact I'm a powerful goddess, I like to partake in all pleasurable things." She surveyed the table. "Luscious males and succulent food, what must I do?" She shrugged her lovely shoulders, her cleavage emphasized. "I've forgotten how much I love to visit this realm. I shall have to try not to forget. I expect more invites. Do you understand?"

"Of course, goddess. You are always welcome." Arach wondered if she'd noticed how forced his smile was. He was eager to be rid of her. "These blessings are why we offer our tribute to Mother Earth, she continues to bless us. As do you, goddess," Arach added, nodding his head toward her.

"Yes, I do."

He shuddered at the hardening of her voice, the crackle of anger beneath the sweet dulcet tone. "Goddess, please tell us what involves my loyal warrior and nephew, Clayne MacDagon?"

"It has unfortunately come to pass that the prison gates holding Saltar have been weakened." Amuliana sighed, her very air one of distress, yet he caught the twinkle in her eyes.

"What!" A combined gasp swept the room, the men awakened from their lust-induced trances. "How did this come to be?" Arach shuddered, panic rolling through him as heat rippled up his body. Every sense was alert to the danger.

"I dabbled a bit with something else, and noted only afterward that the bonds were weaker. Calm yourself, my dragon king. I prefer the heat of your sexual passion to this heat wave." Amuliana fanned herself, and then twirled her hair between her fingers. "This happens when one plays with the fabric of time. He is still imprisoned, but the locks need a bit of shoring up." She batted her lashes at the king. "As much as I loathe asking for your assistance, I must. To ensure our continued existence, our safety, I must impose upon you. Saltar is a dangerous vampire as well as insanely angry."

"Yes, he's one pissed off fucking bloodsucker. Can't you fix this? You are a goddess." Arach raised his right brow, idly playing with his glass of wine. "Indeed, why were you dabbling with time's fabric?"

Amuliana rose, her chair skittering across the floor. A servant rushed to right her chair. "How dare you question me." Narrowed, her eyes bore into him with a look of utter disgust and fury. "I can make you sorry for such insolence. Yes, I can fix this. I'm here to get what I need to fix this. I need Clayne MacDagon."

"Yes, I have no doubt you can make me sorry, my goddess, but wouldn't you rather I come to your assistance to fix your blunder?" Arach leaned closer to her.

Amuliana's beautiful features contorted. "I suppose." She shrugged, twirling her hair around one finger. "But don't call it a blunder. It's such a common word." The goddess lounged in her righted chair, legs crossed. Her gown slipped, revealing the long expanse of her leg. "I suppose I shall need your cooperation in this. You honor me, King Dragon, by taking this mission."

"What is it my loyal warrior Clayne can provide?"

"His cooperation."

"He will do as bid, but I wonder what else you need of him?"

"Simply do as I ask, see to it your warrior nephew is cooperative." The cunning goddess's voice deepened. "Clayne is a male of many talents. It should be easy for him to find a mortal female and persuade her to do his bidding. He must seduce her then bring her here to me. He needs to capture her heart, but she must surrender it freely. I'm sure this female will weaken to his male talents. Send him to seek the Forsaken who bares the mark of wings of a dragon on her right shoulder. This female's important to us, she possesses the royal tiara along with the ring of Queen Maudhnait, King Hema's assassinated wife. She can wield their powers."

"We're fully aware who Queen Maudhnait was. She was kin, needlessly murdered by bloodsuckers."

"Yes, the point exactly. She possessed dragon and vampire blood. A vessel of peace between your races, a symbol of unity, wife to a vampire supreme leader. Lord Saltar destroyed the peace when he destroyed her. That was his objective, you know." Amuliana's voice was harsh. The faint buzz of arousal was easily crushed as Arach watched the goddess spin her web. Deceitful, cruel, she was not one to be trusted.

"Yes, our kind recalls the history very well. You need not remind us." Running a hand through his hair, he struggled to regain control.

"Of course you recall it!" She flicked her hand in his direction "The female Forsaken who possesses the mark of the dragon as well as Maudhnait's jewels is special to us, I require her."

"Why?"

"She too possesses dragon's blood mixed with vampire blood."

"There are others of this unusual mix?" Arach sat his glass down a bit too hard.

"Of course there are others, you ignorant man." Amuliana's voice rose with her anger, her eyes narrowed and darkened.

Arach fisted his hands but held his tongue. The temperature in the room soared as his emotions churned.

"In times past, your males would eagerly lay with vampire women. Do you not recall this fact? Vampire women are sensual, seductive, despite their habit of consuming blood. These affairs produced children of mixed genetics." Amuliana looked around at the men. Many cast their eyes down or away. "These children were raised as vampires, often never knowing the truth. Yet the dragon blood has never diminished within their veins. It has passed from one generation to the next. Such is the great power of your kind."

"I do know that many of my dragon males enjoyed the beds of vampire vixens." Arach shook his head, snarling.

"Yes, they did." Amuliana touched Arach's hand, trailing her fingers over his. "I can understand why the vampire women desired your males. I also enjoy a dragon's cock."

Arach pulled his hand away. "I'm mated, my lovely goddess."

"Yes, yes, how boring." Amuliana rolled her eyes. "Anyway, the jewels were hidden away with this girl's family. She possesses dragon's blood, and the treasure of which I seek. Like all of Saltar's followers, her line was cast out. Why the jewels have been kept safe for so long is because none know of her yet." Amuliana took a sip of her wine. "This female dracvipen, one of mixed vampire and dragon blood, holds the key to defeating Saltar once again."

"What does this have to do with my nephew?" Arach asked.
"He must find the dracvipen with the jewels. It is my belief that Clayne alone can make things right. He is the one who can find her. Then he must use his innate charms upon this female dracvipen to bring her to me, to this realm."

"Clayne's hatred for all vampires will hinder his ability to do this. I should send another warrior."

"No." Amuliana slammed her fist down, making the entire table shake. Her fair complexion turned black as night, and her eyes shinned silver. "No, it has to be Clayne MacDagon. Did you not hear me? I know what needs to be done! He must find the Forsaken female. Do as I command! King Aerouant, you will see to it this is done. Clayne must obey. Is that understood?"

Before Arach could answer, Goddess Amuliana vanished in a puff of black smoke. With her departure, his men shifted, waking from the spell she'd cast.

Arach leaned forward, fury lashing through him at the high-handed treatment of one they hadn't seen in decades. "There is much to this we have not been told." Glancing at his squire, he waved him closer. "Find Clayne, bring him to me."

"Right away, sire."

Arach leaned back in his seat, watching the young dragon hurry from the room.
Copyright (c) 2012 by Ciara Lake. All Rights Reserved.