Photos from Maya's Latest Release, Fire and Ice: Season of the Vampire 1!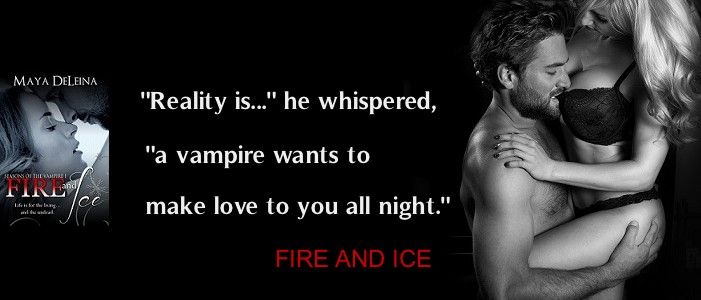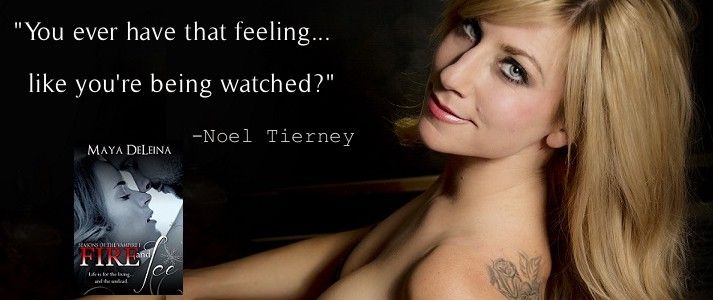 Photos from Maya's New Release, Her Vampire Series with Ellora's Cave!
Bio:
Maya DeLeina was born and raised on the beautiful and romantic beaches of Oahu, Hawaii. Relocating to Colorado, Maya's crystal blue oceans and powdery white sands were traded for enchanting forests, mystic mountains and golden plains of promise.
Living just on the outskirts of Manitou Springs, the town's history of spiritual healing, eclectic flare, fabled underground tunnels and rumored lore of wizardry and witchcraft rekindled Maya's love for the paranormal, metaphysical and most of all, vampires.
One bite and she was hooked.
With a hint of incense lofting in the air and the majestic Pikes Peak sitting in picture perfect view from her windows, Maya can be found relaxing in the recesses of her comfy couch, sinking her teeth into crafting and weaving seducing and erotic tales of vampires that may or may not roam her beloved town.
One read and you'll be hooked!
Freebies:
Get a look at Maya's Latest Vampire!!! This eye candy will be in the video book trailer for her new vampire series coming soon from Ellora's Cave! Stay Tuned!
Get your very own free desktop wallpapers from Maya!
Get Maya's vampire and gothic art wallpapers today!
Visit Maya at the Four Seduced Muses Blog on Fridays for Forbidden Fruit!
Don't miss this free read of Flesh Fantasy, Book 1 in the Ambrose Heights Vampires Series.
Also don't miss this free read of Veil of Seduction, Book 2 in the Ambrose Heights Vampires Series.
Watch the trailer for the Ambrose Heights Vampires series today!
And the brand new teaser trailer for Maya's upcoming vampire series with Ellora's Cave! Not to be missed!
Love Documentaries? Then check out this teaser trailer for Maya's upcoming one that may answer the question, "Are there really vampires living in Colorado?"
Check out the Bloopers Video, Folks You Don't Want to Miss This!!!
Upcoming Appearances by Maya DeLeina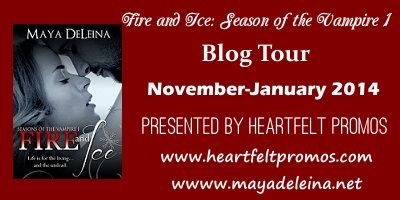 November 15, 2014: Author Natalie-Nicole Bates' Blog
November 16, 2014: Author Tina Donahue's Blog
December 1, 2014: HeatFelt Promos: In the Hot Seat
December 3, 2014: Author Regina Paul's Blog
December 6, 2014: Moonlight Romance Authors
December 8, 2014: HeartFelt Promos
December 18, 2014: Queen of the Night Reviews
Books:
Available from: Amazon, B&N, iTunes, Smashwords
Blurb:
Noel Tierney thought she'd have enough time before the predicted storm to make it to her holiday retreat, but the snow hit sooner than expected. Caught unprepared on a treacherous pass, poor visibility and icy conditions lead to a crash. She lay immobile in her vehicle, stranded in a ditch in the most remote leg of her journey.
A faceless hero comes to her rescue and Noel has no choice but to wait out the blizzard in her rescuer's unique cabin nestled in the woods. Everything about Grayson James peaks her curiosity—his valor, air of mystery and most of all, undeniable attractiveness.
For three days and nights, passions are unleashed and unexpected emotions are brought to life. When the storm breaks, Grayson vanishes into thin air, but not before revealing startling news that leaves her questioning her sanity.
Fast forward years later and Noel is in the southernmost part of the United States. She'd come seeking solace after her husband's tragic death, but what finds her in Key West is more than she ever anticipated.
In the sultry summer, her unbridled winter's ecstasy resurrects.
And so does the Vampire.
"In the depth of winter I finally learned that there was in me an invincible summer."
-Albert Camus
Excerpt:
Dark yet welcoming, the restaurant pulled them in with its ambiance.
The plastered walls were sponged in color blocks of a deep red and black. The ceilings were painted in a high polish black and stone black tile lined the floor. Striking kabuki masks and detailed silk kimono robes lined the walls
The women shared the restaurant with no one except the spiciness of sriracha seasonings and robust scent of the rich soy sauce that filled the air. They sat on their high top stools at the bar, enjoying the food and the reprieve from the heat.
"Air conditioning is nice, huh?" Noel asked.
"Yes, I'll give you that. I forgot how sticky this weather can be. I think we have to get used to having bad hair and make up days."
"I think you're right."
Suzanne finished sipping the last of the broth. "The soup is amazing. It's not the kind of cuisine I had in mind for our vacation in Key West, though."
"I had no clue this was even here. But, I needed this…helped with my hangover."
"Feel better?"
"Absolutely. I think I can tackle a Sandhill Hooker shot or two today. After all, we are on the infamous Duval Street."
"Okay, pickle juice that way…now you're talking."
She looked around the place and smiled. "It's pretty cool in here."
Suzanne leaned her head back. "And look at how high the ceiling is. I like all that exposed ductwork. I wonder what this place was before?"
"This used to be a club," said the waitress as she carried in a case of liquor from the kitchen to the bar.
"This was a club?" Suzanne asked.
"Yeah. You two new to Key West?"
"First time here."
Noel sat quietly listening to the conversation unfold between Suzanne and the waitress.
"You want a little history on this building you won't hear about on any tour guide?" The waitress asked as she unpacked the box and carefully placed the bottles on the lighted shelves behind the bar.
"Sure."
"This restaurant and the entire vacant spot next door used to be one big club." The waitress turned around and pointed towards the ceiling. "There was an entire second floor up there. The owners of the restaurant demolished it since the place is small and narrow. The height makes it feel spacious. You can sorta tell how it looked like the second floor with that small area they kept above the kitchen. The red spiral staircase you see leading up to that area…that's original to the building."
"Yeah, taking the second floor out does make it feel bigger. So the club must've been packed all the time to have two floors, huh?"
The waitress laughed and leaned against the counter. "They didn't advertise. And you notice it's off of Duval right?"
The women nodded.
"Not much foot traffic on this street like Duval. This was the hush-hush place. You had to get invited. Secret door knock and password would let you in—extremely private and exclusive."
"You ever get invited?"
"Oh, God, no. I have no idea who got invited, but I wasn't one of them. In fact, I never knew the club existed until a friend told me that the owners were going to put the building up for sale a few years ago. I was like, 'what club?' And the thing was, I walked past the place many times and always thought it was an abandoned building."
"So what was the deal? Why was it private? What went on?"
"Rumors claimed it as an adult playground."
"If the place was still in operation, somehow I know Suzanne would get an invite," Noel chimed in.
Suzanne flashed a wicked smile.
"Possibly," the waitress said. "Get's your thoughts going, right? Like, what exactly happened in there? Who went there? But the one thing I was always curious about was seeing the place. They say it was like being on another planet."
Noel awaited a break in the conversation to jump back in with her questions. But movement from out of the corner of her eye caught her attention. She snapped her head to look at the loft area and gasped.
"What?" the waitress asked in a concerning tone.
She scanned the area in confusion.
"What's wrong?" Suzanne asked.
"I-I thought I saw something up there."
The waitress peered into the kitchen. "Can't be. No one else is here except Jesse and he's at sink."
"What's that door up there?"
"That's the access point to the space next door, but its sealed shut from the other side. Trust me. I've tried to see if I could get in to sneak a peek."
"What is it that you think you saw?" Suzanne asked.
She shrugged her shoulders as goose bumps paraded along her skin. The same feeling stirred again—as if she were being watched. "I thought I saw someone looking down on us from that railing."
Suzanne turned to the waitress. "We partied a bit last night."
"That tends to happen in Key West."
"I think we'll take the check and I'll get this one out for some much needed fresh air and vitamin D."
"Sure thing."
"I'm not crazy, Suzanne," she whispered as she reached for her purse.
"I didn't say you were. I just think you need to get outside."
"Sammy told you right?"
"What?"
"The boat? Me freaking out that someone was watching me last night?"
"Yes. But, honey, I think you're just thinking of Dante being in this place and visualizing him. That's all."
The waitress slid the check across the counter and Suzanne immediately snatched it up. "My treat. You get drinks tonight."
"Thanks."
Suzanne placed the cash on top of counter. "Keep the change, darling. Thanks for the 411 on this place. Very interesting."
"No problem. You guys go have fun."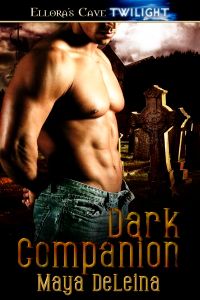 Available from Ellora's Cave, B&N, and Amazon!
Blurb:
Warwick, an Elite member of the Vampire Architects, was chosen as Isla Joseph's Protector at the moment of her birth. Four decades later, he struggles to hide the love he harbors for his charge. When the time comes for her to learn of Warwick's existence, lust is a beast he can't contain, nor can Isla fight her instant attraction to this mysterious "stranger". The pair comes together in a frenzied feast of flesh.
But their intimacy has consequences. Consequences for Isla, when she discovers her lover is a vampire…for the team of Architects, who are struggling to save her from a horrific future…for Warwick, when he's forced to wipe every trace of himself from Isla's memory.
Isla, Warwick and the Architects will soon discover love isn't so easily erased. And while fate may have dark designs for Isla…destiny has other plans.
Excerpt:
"Don't speak," Warwick ordered. He uncrossed his legs, firmly planting his feet on
the ground. He patted his lap, motioning Isla to take a seat.

He was playing it cool and mysterious, as he'd thought she'd like.

Isla looked around nervously then walked to the main sitting area. She placed her
small evening bag on the table then removed her shawl and draped it over the couch.
She walked unhurriedly back in his direction, and not with confidence. He'd
anticipated that. But her look of marked hesitance and fear, as if she could change her
mind and leave at any moment, was something he hadn't anticipated. He'd
accomplished the hardest part of the case—she'd contacted him of her own free will.

Now that she was here, he needed to change his approach, do something to calm her.

His mind raced. She'd just arrived and he was already deviating from the plan he'd
had in mind.

"I want your back facing me when you take a seat," he instructed.

Isla neared, keeping her eyes mainly on the ground.

"Look at me."

She stopped. Her gaze connected with his.

Day after day he'd watched her, for forty years. But seeing her in the flesh was an
entirely different story. The contrast of her crisp blue eyes, dark-black hair and pouty
lips against her porcelain skin was striking. It was if she had walked straight out of a
magazine. She was polished, unblemished and sophisticated.

"Do you really like what you see?"

"Absolutely."

She turned and gently lowered her backside to align with his crotch. Teasingly, she
swayed her hips with pronounced and unnecessary movements.

Warwick smiled as she showed signs of loosening up. He skated a palm down her
arm.

Isla flinched in response.

"Relax," he whispered.

The black dress she wore had a low-plunging back, so except for her hair cascading
down, her skin was on full display. Gently, he used one hand to caress Isla's arm. "Lean
back into me a little more." He spoke inches from her flesh, allowing his hot breath to
graze the skin on her neck.

Isla slowly leaned back against his chest.

He cupped both hands at her shoulders and she let out an unintentional whimper.

He pressed up against her solidly, burying his face in the thick of Isla's hair. He
nuzzled his nose against the back of her neck and took in a deep breath. "Delicious…as
I always imagined."

A faint moan escaped Isla's lips and she shivered in his embrace.

"You're so tense," he whispered.

"Because I'm nervous."

"Don't be. I'm not here to hurt you or judge you," he said as he clutched Isla's hair
at her nape and gently draped it over her shoulder, "I'm here to sate a desire. All you
have to do is relax and trust me."

"I trust you."

"Pay attention to my touch," he whispered. He used one finger to stroke her
exposed back with a featherlike contact. He moved delicately, in a fluid writing motion.

"A-are you writing on my back?"

"What letter was that?"

"D."

"Good girl. Spell everything out as I go along."
Blurb:
Tonight, Rain Calisto searches for her man, and Rhys Matthews comes into focus. He is well-built and sinisterly sexy. In the same Denver nightclub, Armand Anastasio searches for his woman—Rain.
But the men are more than gorgeous. They are vampires, and they are unmated.
A chance encounter lands Rhys and Rain together. Their attraction remains undeniably powerful and they fall prey to lust. With each passionate tryst, Rhys senses a connection that goes beyond the flesh. Unbeknownst to Rhys, Rain is a diabetic. Her insulin alters her biological makeup, disguising a revelation he isn't quite prepared for.
Rain is Rhys's fated mate.
As they struggle with this knowledge, another bombshell is dropped. Rain's insulin-laced tissue creates a rare vampiric blood that can fetch a hefty profit. And Armand has always known this.
Is his attraction to Rain genuine, or is he just out for her blood?
This is the diary of Rain and Rhys. Recorded here is their transformation from a flesh fantasy to eternal love.
View the YouTube Trailer!
Excerpt:
We were behind the castle, standing in front of an overgrown rose bush. Through the thickness of branches, leaves, thorns and white roses, I could see the beginnings of a stone staircase. Rhys escorted me down the stairs carefully. Just as we were about to plunge into total darkness, we rounded a bend and the faint glow of luminaries that decorated each step shed light on the space.
We were underground. A towering wood and iron door welcomed us.
Rhys didn't knock, but rather, scratched on the door to announce our arrival.
Why didn't I ever notice the long nails on the man before?
I mean, the way he used his fingers to pleasure me, you would think I would've detected the peculiar length.
After being granted access, Rhys was handed a candle-lit lantern by something cloaked in a black hooded robe. Now, I describe the hooded person as "something" as I couldn't make out the sex by the movement or stance. And forget about catching a glimpse of any facial features. There were none. The person's face sat far back in the recesses of the hood.
I was here all but five minutes and started feeling really edgy.
I moved apprehensively behind Rhys, sort of how I moved through a haunted house. I waited, anticipating something jumping out of the shadows. I imagined something nipping at my heels, ready to blanket me in terror.
But nothing happened.
We had to duck in several areas to clear low beams and ceilings and then made our way to an expansive tunnel. Rhys stopped and motioned me to walk by his side.
"You all right?" He whispered to me.
"Yes," I responded.
"There are tunnel systems all under this castle. Right now, we are right under the main ball room. We are headed to a spiral staircase that will lead us to the masquerade."
I shook my head in understanding as I let my mind drift.
"Rhys…" I whispered softly.
"Yes?"`
"Correct me if I am wrong, but did you just recite a line from Dracula back there?"
Rhys stopped in his tracks. "Very good, Rain."
"Again with Vlad Tepes? I mean, he was the inspiration for the novel. What a sick obsession!" I spat.
Rhys just shook his head.
"And by the way, what is with the strange writing on the bracelets and on my choker?" I said as I twisted my bracelet around my wrist.
"That's the language of the Noirs."
"Huh?"
"Madame Noir developed our own language. I am still trying to learn it," Rhys said blankly.
The hooded shroud cleared its throat just then, alerting us that we were obviously holding up the show.
Bingo. The throat clearing did reveal that it was male.
We continued to walk and met up with the man. He stood at the staircase, pointing up as he looked down. I followed Rhys up the stairs, carefully lifting my dress so I wouldn't step on it.
From the darkened tunnel, we emerged.
A burst of color, fiery red and deep purple filled my eyes immediately. My ears lingered on the notes of the electronic beats, slow and sensual in flavor. My nose caught a whiff of a marked staleness. I quickly identified that the staleness was more than likely the product of the rolling fog that buried my feet.
Damn, who was going to even see my shoes to appreciate them now?
And while we were just at the threshold of the room, I could already smell the air, heavy with a raw scent of sex.
"Ready?" Rhys bent his elbow in an Old-World gesture.
I laced my arm at the crook of his elbow as I took note that he did not have long fingernails, as the scratches on the door suggested.
"Yes," I said with a curious breath, my eyes still lingering at his fingertips.
"Stay close to me. I won't leave your side for one minute. Anyone that approaches us, I will make the necessary introductions."
And with that, we stepped into the room.
Suddenly, all eyes were on me.
I could literally hear my mask come alive. The feathers were fluttering and the beads were shaking about as a result of my trembling body. The crowd examined me from head to toe. And as quickly as I broke their activities, they severed their stares and went on their merry way, in perfect synchronization with one another.
"Rain? Look around, get used to your surroundings. Acquaint yourself with what is going on. Everywhere." Rhys leaned into me and said, "You will soon know why I told you to stay close to me."
We took one step forward as I remained attached to his arm. Rhys stopped and retreated in step. "And, if you are thirsty, I will get you your drink. Do not accept any drink that is offered to you."
All right, this was sounding creepier by the minute. What in the hell did I get myself into? And better yet, what the hell was wrong with Rhys?
We walked slowly into the room. People lined the walls, nodding in acknowledgement at Rhys as he did the same in return. Everyone was stately looking in their costumes, like the tunnel we just walked through was a time machine that catapulted us to a different century. The masks everyone wore were beyond beautiful. They were intriguing. The masks effectively cloaked their identity, but each had a different flare, evoking a different feeling. It made me wonder if they were made specifically to reflect the spirit of whoever donned the mask.
And it made me think about mine.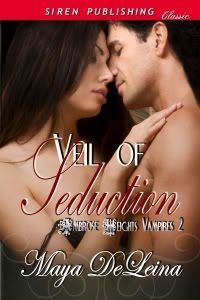 Available Now from Siren Publishing!
Blurb:

A newborn vampire. A powerful leader. An inconsolable woman.


The shaping of their eternity all lies within the eyes.


Steffan Matthews is the devastatingly handsome vampire leader of Ambrose Heights. He
cultivates social order and invents concoctions that allow vampires to feel human
once again.


But Steffan also has a devouring obsession that brings him to his knees. Her name is
Anya.


Steffan sets out to claim Anya, a mortal ripe for the taking, as his mate. But the
blackness in the eyes of his newborn should've served as a warning. Anya is
off-limits according to the vampire creed.


It will take the strength of the kinship, the purity of love, a hint of magic, and a
subterranean guardian to shield Steffan against the wrath of Ryan Evans, protect him
from the fate of the Nemesis, and bridge a passage to his rightful destiny.
Also…Don't Miss The Video Book Trailer!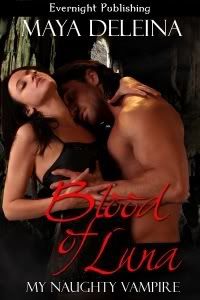 Available from:

Evernight Publishing

Amazon

Bookstrand

All Romance
View the trailer today!
Blurb:
When is it real? When is it fantasy?
For Luna Kalen, the line between reality and a dream is hard to recognize. Recovering from a car accident, the solitude at the coast is meant to be therapeutic. But Luna soon finds it more than her idle mind can handle.
After exploring a dangerous stretch of shoreline, Luna returns home with a mysterious man she discovers in a cave. Little does Luna know that this man is about to fill her world with sinful pleasures…and blood-thirsty vampires.
When reality and fantasy collide, unimaginable dangers lurk, revelations are revealed and darkest desires are fulfilled. But if you think the happily ever after is the sign of the ending, it's really only the beginning.
Should Luna have listened to the warning? After all, the neighbors told her. Do not go into the cave.
Excerpt:
Flashes of unspeakable pleasure travelled like lightning throughout my body, teasing and torturing me all at the same time. I moaned roughly and screamed in a piercing tone that echoed all along the cave walls. Mindless vulgarity escaped from my lips. My foul-mouthed voice sounded unfamiliar, raw and naughty.

His cock plunged into me slowly, but unrelenting. In and out, bit by bit, he devoured my body.

He was a man with an insatiable need and I was the woman who held the key to his release.

"You have a nasty mouth on you," he whispered in a coarse, breathless voice.

"You do that to me. Make me scream. Take me hard. Take me fast. Take me rough."

"Shh, savor, Luna. Savor this right now. This is the last time you'll ever know the sensations of a cock plunging into your half human, half vampire body. Feel each part of you that I touch."

He bent his knees to drive up into me in a slow rhythm. Unhurried and crafty, his body moved like a dancer, full of untapped sensuality.

Away from the carnage and destruction, we were deep in a dark cavern of what seemed like an endless cave system. Wrapped in a world of complete ecstasy, we stood under a sliver of light that pierced through a fissure in the cave. Our bodies sparkled in the silvery glow.

Trevor stood with both feet planted firmly on the ground. I balanced on one leg while the other draped over his forearm. Under my bent knee, he secured my position as his hand grasped my thigh. His other hand cradled the rise in my ass, squeezing, rubbing and exploring freely. If it wasn't for the gentle grade in the cave floor that I stood on, our height difference would never allow for such a sexual position.

With his face buried at my neck, his fingers dug deeper into my sweat-soaked flesh. His pace was still unhurried, but his thrusts to bury himself completely within me intensified. It was if he were claiming unchartered lands, saying "mine, mine, mine" with each plunge. His lips grazed my ear delicately, making me tremble in delight.

"Ickey moving around your naked body in this light is the sexiest thing I've ever laid eyes on." His deep voice sounded seductive and mesmerizing.

I threw my head back and moaned as my pussy drenched his cock in more and more silky, hot wetness.

I could just imagine what my body looked like. If it was anything like what I was seeing on Trevor, it must've been an image straight out of a fantasy.

The beam of light was alive, wrapping around our bodies. The curves that Trevor's body took reflected the light, acting as a mirror. Glowing and glistening, shards of luminosity bounced from our bodies into the darkness with every movement. The play on shadow and light deliciously highlighted dips and ridges in his chest, abs, and arms while portions of his facial features were blanketed in a mysterious cloak.

All the while, Ickey moved along my body without a care. Smooth and dry, she gently swept across my clavicle, up over my shoulder, slithering her way down my back, and circling around my waist. Thousands of tiny scales moved in synchronization. Rolling, surging, swelling, the piercing light glistened along the surface of her movements like the tides in an ocean.

The moment was profoundly passionate and powerful.

Suddenly, his exacting motion grew fierce and demanding. Like a wild animal released from his chains, Trevor grunted and moaned wildly and operated in nothing but a single-minded intensity. He slammed his cock into me, driving himself deep with force and purpose. Over and over, he took me, and my body withstood his demands in sheer delight. With one sure thrust, he buried himself to the hilt and held his position.

"Am I a lover who can make you scream?"

"You make me do more than scream. You make me lose my mind," I said gasping for breath.

He slowly eased his cock from my body, letting his tip linger at the entrance of my slick pussy. "Do I now?" he said as he slammed his way into me once again.

"Yeah! Fuck me hard!"

"Hard?" he asked as he continued his slow retractions and driving force.

"Yes!" I screamed, "Give it to me. Hard!"

"My darling, as you wish."
(c) Copyright 2011-2013 by Maya Deleina. All Rights Reserved.